Key Differences between SAP CRM and Salesforce CRM
Choosing the right CRM software is a make-or-break deal for organizations today. Though it is held in high regard, selecting a CRM that complements the organization's functionality is a Herculean task. While there are a plethora of CRMs in the market, the final choice often boils down to the 2 most popular providers:
Salesforce
SAP (Systems, Applications, and Products)
No wonder the demand for salesforce CRM users list and SAP users email database is always at the peak.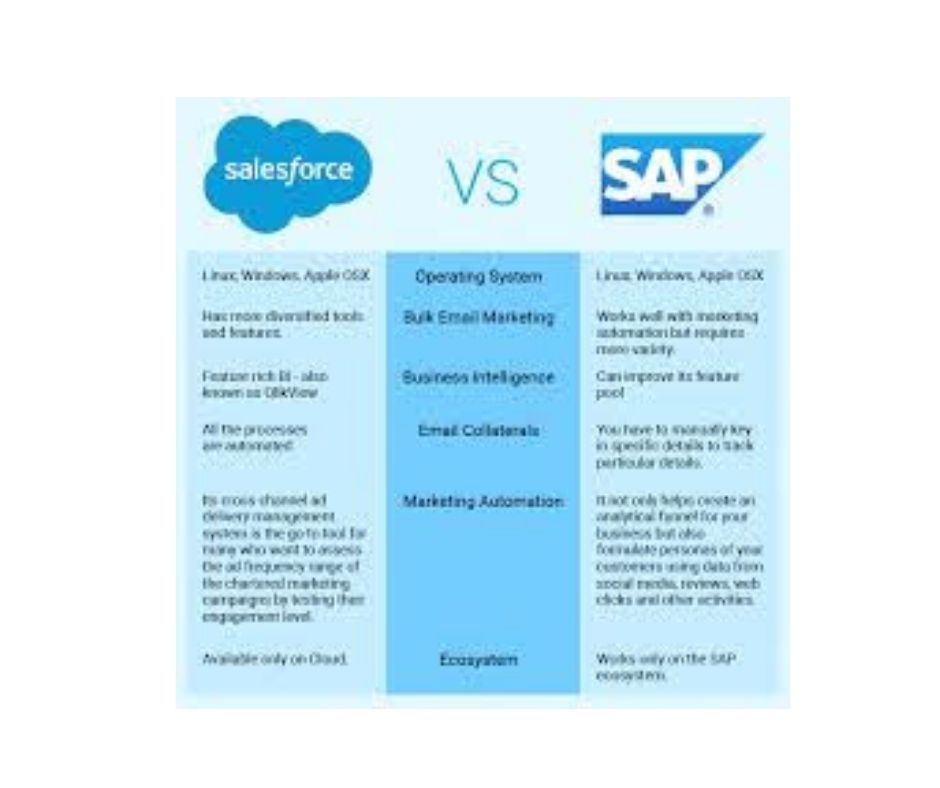 Salesforce
Salesforce is an industrial pioneer, holding a major market share to its name. While it is a pretty extensive CRM, many users often switch to other providers simply because they do not need the additional features that Salesforce and do not want to pay for that.
SAP
SAP is yet another powerful stakeholder of the CRM industry and specializes in business intelligence, ERP, computing and so much more! Due to many modules to its name, it often denotes a clear advantage over Salesforce. However, it falls short in other CRM-relevant requirements.
What is the Difference Between Salesforce and SAP
Let's first know what is bulk email marketing? If you visit an online store and give in your details, you will soon receive promotions and emailers from that store right to your inbox. This is a classic example of bulk email marketing and CRMs enable this large scale marketing.
Salesforce designs newsletters and emails using its inbuilt templates and sends them across to relevant customers. How does it select its relevant customers?
The Salesforce users database is leveraged to build personas for the target audience and send them content that builds engagement and customer loyalty. Marketers can also simplify their email scheduling and view the in-built calendar to chart out marketing strategies.
On the other hand, SAP has cut and polished email marketing abilities where customers can include cross channel marketing and build & track campaign management to widen their reach in addition to the SAP users database. This enables a wide-scale marketing action but with personalization as well.
However, Salesforce has more features to support its customers in their email marketing journey and thus, scores above SAP in this case.
KPIs, analytics, and many others are the buzzwords that we get to hear in business meetings and presentations. These are the popular CRM features, the Business Intelligence (BI) tool. It displays results, analytics, and insights that help companies make informed business-driven decisions.
Salesforce's customized BI tool, known as QlikView is a paid feature that offers everything that your quintessential BI offers and more. It helps users elevate their sales process with real-time analytics and strategic improvement methods that help improve efficiency.
SAP CRM especially qualifies for processes like KPI reporting and can also be used as a part of your existing SAP CRM interface but the efficiency might lag in comparison to its stand-alone BI tool.
Yet again, Salesforce takes the baton in Business Intelligence with its feature-rich tools. However, many might not have an elaborate need for these features and can go for the simplicity of SAP.
CRM is in the business of automation. Salesforce and SAP have their own version of marketing automation that drives the sales efficacy and process management for the users.
Salesforce's cross-channel ad delivery management system is the go-to tool for many who want to assess the ad frequency range of the chartered marketing campaigns by testing their engagement level.
Once that is done, these ads can be turned off, thus, saving money. The best part about this ad tool is that it derives all its data from Commerce Cloud, Marketing cloud, Sales Cloud and Service Cloud.
Talking about SAP, it is helpful in creating customized marketing campaigns based on your marketing spending, transactional data, funds, and the campaign ROI. This not only helps create an analytical funnel for your business but also formulate personas of your customers using data from social media, reviews, web clicks, and other activities. This helps integrate personalization into the marketing campaigns.
Here, SAP takes the cake with its integrated and personalized approach to marketing automation.
We have discussed bulk email marketing but sending out emails is not all. In order to gain maximum benefits, monitoring these emails is equally important. The email collaterals help you track if your emails have been opened or not and if they have incentivized any sort of site clicks and any ROI culminating activities.
Salesforce is making email tracking easier for businesses and users can easily assess the impact of their campaign by the customer activities. They can use this data to plan their next strategies or tweak their engagement to foster better customer interaction.
SAP's email collateral is quite similar to Salesforce. All the customers in the SAP users email database will be carefully tracked and how they are contributing to any ROI and growth. However, though emails can be automatically tracked, users have to key in the special parameters in the tracking pool for a particular assessment.
Wrapping Up
Choosing a CRM for your organization has a lot to do with the specific requirements, industry and overall business. While Salesforce will be great for your wide-scale automation services, SAP is your choice if you are looking for single focus automation.