Make your Campaigns Click with the Prospective Salesforce Users Email List
With Technology Users List most accurate Salesforce Users contacts data, you can reach the correct inboxes at the right moment. Salesforce is a renowned cloud-based software solution that, provides a wide range of customization options to its clients. We recommend the most comprehensive Salesforce list to our prospects so that they can achieve their marketing objectives. Our geo-targeted data can assist you in growing your business like never before.
Our Salesforce Users List allows you to communicate with targeted customers, increasing your sales conversions. Our client-focused email list is genuine and tailored to keep your services in the spotlight in today's market.
We offer a vast database spanning multiple geographies that can help you improve your business connection with your target audience. For both online and offline channel marketing, we consistently provide you comprehensive data. We ensure that your marketing activities meet your expectations with higher lead generation and conversion using our Salesforce Users data.
Get a Free Quote Now!
Reach Your Ideal Audience With Targeted List!
Engage With Promising Salesforce Clients with our Datasets

Salesforce CRM Users List

Salesforce Marketing Cloud Users List

Salesforce DMP Users List

Salesforce Quip Users List

Salesforce Einstein Analytics Users List

Salesforce Engage Users List

Salesforce Community Cloud Users List

Salesforce CPQ Users List

Salesforce Heroku Users List

Salesforce Chatter Users List

Salesforce Sales Cloud Users List

Salesforce MuleSoft Users List

Salesforce Pardot Users List

Salesforce Apex Users List
Technology User Lists as Your Trusted Salesforce Customers List Partner
A competent B2B marketing data provider uses high-quality sources to gather the necessary information from clients looking for services and solutions for their company. Our efforts are focused on providing our customers with complete information from reliable sources such as Corporate Events and Conferences, Newsletter Subscriptions, Business Listings, B2B Directories, Survey Channels, Top Online Portals, and so on.
Salesforce is one of the most prominent cloud-based platforms. Cloud computing has produced a paradigm shift in the IT sector over the years. Most businesses have already made the switch to the cloud, and they are more concerned with consistent customization. On the other hand, other firms prefer to replace their present program with one that is better suited to their needs. A Salesforce solution provider needs all of these and additional information about a client's requirements.
Do you want to get your hands on a Salesforce User Lists?
GET A QUOTE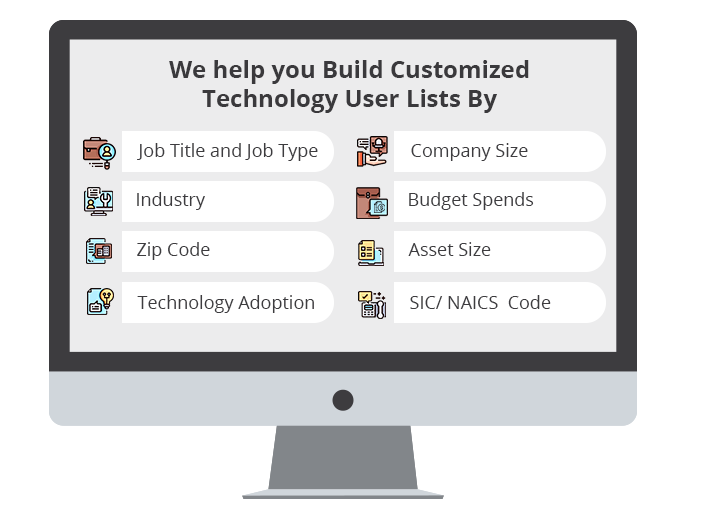 Why Can List of Companies Using Salesforce Prove to Be Useful for You?
Meet your campaign objectives by procuring Salesforce Users Email List that include IT contacts, companies, and other key decision-makers.
Salient Features of Our Datasets:

Get access to email and Tele Verified Salesforce Users Leads

Utilize the power of customization with our Salesforce User List based on your marketing needs.

Dedicated teams of over 800+ data scientists working round the clock to build your datasets

Benefit from active tracking of companies that use Salesforce in the marketing ecosystem.

Utilize exhaustive database that has more than 150,000 contacts of global Salesforce users.

Data collected for most reliable and authentic sources to provide you with accurate lists
Why can Salesforce Users List from Technology User List prove to be useful for you?
Connecting Salesforce development and installation businesses with the proper Salesforce customers are critical. With the database of Companies That Use Salesforce, you can acquire an accurate and up-to-date email list of organizations that offer Salesforce development and customization solutions and services. Your sales and marketing campaigns will have the ability to boost your organization ROI by gaining the top clients with such a list at your disposal.

450+
Million Verified Contacts

90%
Campaign Deliverability

95%
Greater that Data Accuracy

45
Days Data Validation & Vetting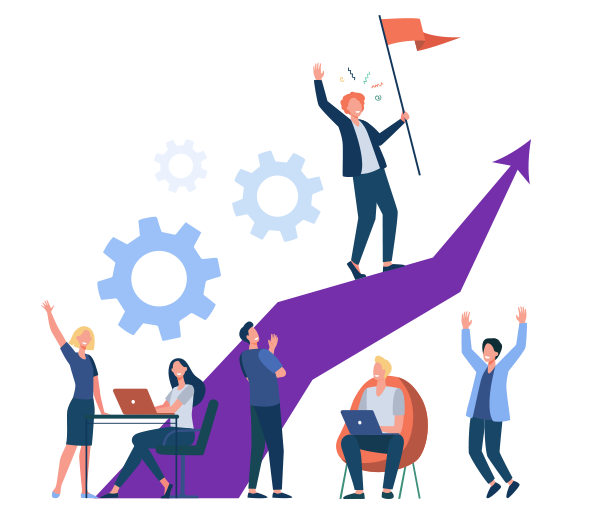 Maximize your Campaign Success Exponentially with Companies that Use Salesforce
Salesforce is widely used in various industries, including IT, education, retail, marketing, and others. To reach these customers, you need the greatest prospect data.
You may interact with a prospect via telemarketing, direct mail, and email campaigns by including a Salesforce Customers Email List in your process. Because you have access to their business details such as income, size, and so on, the data help you construct the best sales pitch to speak with your consumer.
The data also aids in the proper nurturing process, which involves maintaining a relationship with them to reap future benefits such as cross-selling and upselling. If your present customers are happy with your service, they will almost certainly want to upgrade. And it doesn't stop there; the more you provide them with excellent service, the more likely they will purchase the most recent product or service from your company. As a result, it will assist you in meeting your marketing objectives at the appropriate time.
A Sneak Peek into our Data & Marketing Capabilities
Our Clients








To communicate with customers, get the most up-to-date Salesforce users lists:
Our Salesforce users list includes technographic and firmographic data containing critical business information for targeting businesses in many industries. It includes the SIC code, NAICS code, Zip code, and other pertinent information to assist you segment and sending the campaign appropriately.
This is akin to personalization, in which precision targeting combined with a customized solution yields the intended results.
Using Salesforces Customer Lists to Reach the Right Decision-makers
Our prospect data can help you connect with the right decision-maker. The CEO, CMO, COO, CFO, and other C-level executives make the final decisions in an organization.
As a marketer, you should avoid all gatekeepers to connect with the proper person who can help you complete the business as soon as possible. Our Salesforce Users Mailing List enables you to click at the precise time when a customer is ready to buy. As a result, you can boost your earnings to unprecedented heights.
Frequently Asked Questions
How to best utilize a Salesforce User List?

The Salesforce users list serves you a communication channel to engage with key prospects, decision-makers of Salesforce enterprise users. This helps you maximize your sales opportunities by selling add-on, complimentary or displacement solutions that enable you to increase your ROI by many folds.

How reliable are your datasets?

We at Technology User List compile and maintain an accurate and error-free database. We go up and above to ensure that the data we source for you meet the right quality standards, and our accurate and complete data ensure high deliverability and consistency.

Who would you be able to target with a Salesforce Users List?

You would be able to target global enterprise users of the Salesforce marketing cloud. This includes uses of Buddy media, Data.com, Desk.com, Remedyforce, Force.com, Chatter, App Cloud, Analytics Cloud, Sales & Service Cloud, and Marketing Cloud. With a major emphasis on Technographics, Firmographics and Psychographic intelligence, we enable you to target your prospects with relevance.

Are your Salesforce user lists compliant?

At Technology User List, we ensure that all our lists are permission-passed and are compliant with international regulations like GDPR, CAN-SPAM and Anti-spam laws. This enables you to keep your sender reputation intact

What are some of the most well-known companies that use Salesforce?

Salesforce is used by large corporations to manage sales, marketing, finance, customer management, and other functions. It's really simple to use because it's cloud-based. You may access your account from anywhere without having to download or install anything. AMX, Adidas, SAP, Cisco, Air Asia, and Amazon are among the organizations that use Salesforce
Our Popular Technology Users Email List Includes
Cookies are stored on your computer to provide you with more personalized services. See our
Privacy Policy
to know how we collect and manage data.